UC San Diego life science researchers Don Cleveland and Joanne Chory were awarded 2018 Breakthrough Prize awards in December. Each winner receives $3,000,000, which makes the Breakthrough Prize among science's largest award. The Breakthrough Prize is intended to highlight scientists who are tackling the biggest questions and toughest challenges in order to improve lives.
Dr. Cleveland, distinguished professor of cellular and molecular medicine, neurosciences and medicine at UC San Diego School of Medicine, was honored for his research of inherited neurodegenerative diseases such as ALS and Huntington's. (Image courtesy of UCSD)
Dr. Chory, a plant biologist at Salk Institute and an adjunct professor in the Division of Biological Sciences at UC San Diego received her honors "for discovering how plants optimize their growth, development, and cellular structure to transform sunlight into chemical energy."
Dr. Cleveland's Research Highlights:
He elucidated the molecular pathogenesis of inherited ALS, aka Lou Gehrig's disease
Brought to light the role in neurodegeneration played by glia, non-neuronal cells that form the myelin sheath
Developed a treatment in animal models of ALS and Huntington's disease using synthesized strands of nucleic acid to bind to the messenger RNA produced by a particular gene and inactivate it, effectively turning that gene "off".
He was the first to purify tau, the protein that mis-assembles and accumulates in Alzheimer's
He and his colleges developed designer DNA drugs that reduce the synthesis of the toxic proteins produced by gene mutations. This technology is now being successfully used to treat spinal muscular atrophy--an inherited muscle wasting condition that was previously fatal. Similar designer drugs are currently in clinical trial for the treatment of ALS, Huntington's disease, and Alzheimer's.
About Dr. Chory's Research:
She pioneered the use of molecular genetics to study how plants respond to their environment.
Discovered the molecular mechanisms by which plants extract information from light and shade to modify their programs of shoot and leaf growth in the photosynthetic harvest of light.
Chory and her colleagues mapped the entire plant hormone signaling system, defining a new paradigm for steroid perception that is distinct from humans.
She is currently working on a genetics program to breed plants that tolerate a wide variety of different climates. This research could increase crop productivity and fight potential issues due to global warming.

(Image courtesy of

UCSD)
The Breakthrough Prize was created in 2012 by founders of Facebook, Google and 23andMe. It is intended to be high profile. With red carpet and movie stars, they've been called "the Oscars of science." The 2018 awards ceremony was broadcast live on the National Geographic channel and hosted by actor Morgan Freeman.
"These awards garner global attention for their innovative work in medicine, mathematics and biology, and underscore UC San Diego's penchant for pushing the boundaries of knowledge and challenging expectations," said UC San Diego's Chancellor Pradeep K. Khosla In an article for the UC San Diego News Center. "Our exceptional scholars take risks, redefine conventional wisdom and transform lives of people around the world through their groundbreaking research and discoveries."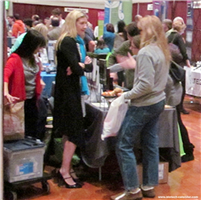 With $650,484,000 in life science research and development expenditures annually, UC San Diego is ranked 16th in research spending in the nation. In 2017, the university received 889 grants from the National Institutes of Health, totaling over $424 million. This included $322,871,529 in research funding.
UCSD Researchers Meet with Laboratory Equipment Suppliers:
The wellfunded and inovative researchers at UCSD require to the latest innovations in lab equipment to continue their groundbreaking work. Lab suppliers wishing to market their products to UCSD science professionals should plan on attending the 44th semmiannual Biotechnology Vendor ShowcaseTM Event on Thursday, February 15th, 2018. The next showcase at UCSD will be held on August 23rd.
To learn more about participating in one or both of these bioresearch product faire call (530) 272-6675 or visit the link below:
Science professional are invited to attend for free! For more information and to save time at the door by preregistering the link below: