The National Institute of Environmental Health Sciences (NIEHS) recently awarded the Center for Environmental Genetics (CEG) at the University of Cincinnati $8 Million in research funding. This award will be disbursed annually in $1.6 Million increments over the next five years, which will take CEG into it's 30th year of continual NIEHS funding.
(Image of courtesy of wikimedia)
According to UC Health News, the CEG examines the interplay between genetics and environment (GXE). The center focuses on epigenetics: study of changes in organisms caused by modification of gene expression rather than alteration of the genetic code itself. Other areas of focus include: the early origins of diseases and translation of GXE to precision disease prevention.
The CEG's Four Primary Core Areas:
Bioinformatics which helps researchers collect and organize data on how proteins function in the body and understand how that information might translate into new targets for drug development. The bioinformatics team also helps researchers design and analyze gene-expression experiments and understand the biological implications of results.
Integrative Technologies provides specialized services and expert consultation in facilities such as genomic and sequencing cores, transgenic mouse construction, genotyping, and proteomics. This core service also offers high-field magnetic resonance imaging and spectroscopy.
Integrative Health Sciences supports human studies of environmental exposures and disease. This core promotes translation of research findings to physicians and community members and guides CEG members through designing epidemiologic research studies to build capacity for research that integrates basic with clinical research and public health.
Community Engagement works to translate scientific research into practical health promotion, disease prevention information, tools and resources for community members, public health decision-makers and health care professionals.
The core facilities and technologies of the Center for Environmental Genetics support innovative research focused on how environmental agents interact with genetic and epigenetic factors to influence disease risk and outcomes. In addition to supporting shared research services, the CEG has a Pilot Project Program which provide seed funding for new and established investigators within and outside the center to launch high risk-high reward projects. Annual pilot project funds of $170,000 support affinity groups, innovative research, and new-to-environmental health sciences proposals.
The CEG has more than 90 members, made up of faculty and clinicians who are investigators or work in the research field of environmental genetics. Collectively, CEG members held $350 million in funding for the University of Cincinnati and Cincinnati Children's during the last funding period. CEG is one of only 20 Environmental Health Sciences Core Centers funded by National Institute of Health's NIEHS.
Distributors Display the Latest in Laboratory Equipment at Cincinnati Bioresearch Product Faire: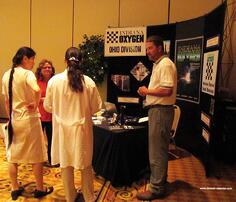 On Wednesday, July 25, 2018 Biotechnology Calendar Inc. will host the 4th annual biomedical vendor fair at the University of Cincinnati. Last year, the university was awarded 151 grants from the NIH for a total of $62,109,922. Laboratory equipment suppliers wishing to market their laboratory products to these well funded researchers should plan on participating in this event.
For more information call (530) 272-6675 or click the link below:
Researchers and Science Professionals Attend these Events For Free! Click on the links for more information and to preregister.