UC San Diego has received federal support to continue its efforts to develop new treatments and, ultimately, find a cure for HIV/AIDS. A five-year, $15 million grant has been awarded to the university's Center for AIDS Research by the National Institute of Allergy and Infectious Diseases (NIAID). The grant signals the federal agency's support of the university's research efforts that started in 1994, the height of the AIDS epidemic.
(Image courtesy of wikimedia)
"The grant renewal represents NIAID's continued and enduring investment in our mission to be a critical regional resource in HIV research and education, to advance the discovery and development of new treatments and, ultimately, to find a cure for AIDS," Dr. Davey M. Smith, the grant's principal investigator and the center's director, stated in an article for the UC San Diego News Center.
UC San Diego's Center for AIDS Research (CFAR) was established in 1994 as a regional, collaborative, frontline hub for studying HIV. Multiple institutional partners, including The Scripps Research Institute, Sanford Burnham Prebys Medical Discovery Institute and the La Jolla Institute for Allergy and Immunology, also joined in the research effort.
Reports of a rare, deadly infection in previously healthy gay men first emerged in 1981. The number of cases of severe immune deficiency among gay men quickly rose to 270 – with 121 deaths -- by the end of that first year. The disease became known as acquired immune deficiency syndrome (AIDS) in 1982. Twelve years later, AIDS had become the leading cause of death for Americans, ages 25 to 44.
An estimated 1.1 million people in the United States were living with HIV by the end of 2015, the most recent data available, according to the Center for Disease Control. Of those about 15 percent, or 1 in 7, did not know they were infected.
According to UC San Diego News, the center's current mission is to find a cure for HIV in individuals already infected as well as prevent HIV transmission to those not infected. This is being accomplished through multi-agency research efforts, community awareness programs and training of researchers and physicians. The center also operates a clinic serving HIV/AIDS patients.
In addition to serving as the center's director, Dr. Smith is chief of the university's division of infectious diseases and global public health and a professor at UC San Diego School of Medicine. Joining him in overseeing CFAR is Dr. Douglas Richman, professor of pathology and medicine, director of The HIV Institute and a founding member of the center.
In 2012, Dr. Smith received an Avant-Garde Award for HIV/AIDS research from the National Institute on Drug Abuse (NIDA). The $2.5 million, five-year grant covered research in HIV prevention among drug users and other high-risk groups.
"A lot has changed since HIV/AIDS first emerged," said Dr. Smith, "especially in the last several years. We haven't yet found a cure, but there are now effective treatments capable of reducing AIDS to the status of a chronic, but manageable condition, not unlike diabetes or hypertension."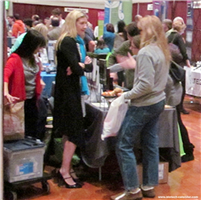 With $650,484,000 in life science research and development expenditures annually, UC San Diego is ranked 16th in research spending in the nation. In 2017, the university received 889 grants from the National Institutes of Health, totaling over $424 million. This included $322,871,529 in research funding.
UCSD Researchers Meet with Laboratory Equipment Suppliers:
Lab suppliers wishing to market their products to UCSD science professionals should plan on attending the 45th semmiannual Biotechnology Vendor ShowcaseTM Event. The next showcase at UCSD will be held on August 23rd.
To learn more about participating in one or both of these bioresearch product faire call (530) 272-6675 or visit the link below:
Science professional are invited to attend for free! For more information and to save time at the door by preregistering the link below: