Construction is done on the $190 million, seven-story Knight Cancer Research Building (KCRB), and on August 20 researchers and staff began moving in. The KCRB is part of the large Knight Cancer Institute, which includes research as well as treatment facilities. The 320,000 square foot building on South Moody Avenue will allow for the recruiting of 250 cancer researchers and physicians.
( Image courtesy of OHSU)
This new facility was made possible by the Knight Cancer Challenge launched by Nike co-founder Phil Knight who donated $500 million in matching funds. OHSU's Knight Cancer Challenge raised $1 billion, 20 percent of which was used on construction and development of the KCRB as well as new cancer clinical facilities.
Oregon Health and Science University's KCRB will house a large number of research programs focused on early cancer detection, computational biology, and immuno-oncology, and . In fact two floors of the building will be dedicated to the Center for Early Detection Research, led by Sadik Esener, Ph.D. a nanotechnology expert.
Also among the occupants is Spellman lab, which works on research focused on advance stages of cancer. Its leader Dr. Paul Spelling is principal investigator in multiple areas of genetics-related cancer research. Spellman lab moved from the Collaborative Science Building to the Knight Research Building designed by SRG Partnership to encourage inhabitants to collaborate. One of the features of the building is the equipment corridor called the "collabrador" where teams may drop in and out to use the equipment as needed.
Chris Boniface, the lab manager for Spellman lab stated in an article for the Portland Tribune, "The idea is they've packed us in so tight that people working on different things, like microscopy, or DNA sequencing work, will be able to bounce ideas off each other."
Since this is a research building, most of its 650 occupants will be physicians, those with doctorates and well-established scientists as opposed to undergraduates. There are several wet labs — laboratories where liquids, chemicals or drugs are used to conduct experiments — as well as "dry" labs — where computers or computer-generated models are used to analyze biological data.
Brian Druker, M.D., director of the OHSU Knight Cancer Institute stated in an update for OHSU News, "We want this to be the building where we end cancer as we know it. We're trying to bring a collaborative spirit to defeating cancer."
OHSU NIH Funding Information:
So far in 2018 OHSU has been awarded 425 grants from the National Institutes of Health totaling more than $217,000. Forty-seven of these were through the NIH's National Cancer Institute and total over $31 million.
Dr. Spellman and his lab received over $400,000 to study

metastatic tumors which are resistant to therapeutic interventions.

Brian Druker, brought in over 3 million in NCI grants for the institute and research into Chronic myeloid leukemia as well as functional genomics.

The largest NCI research funding was awarded to Principal Investigator, Charles Blanke who received $11, 586,328 for the SWOG research group. This groups mission is to design, direct, and participate in research that leads to more effective prevention, detection, treatment, and surveillance of cancers in adolescents, young adults, and adults. Their goal is to improve survival, quality of life, and the survivorship experience for those with cancer.
Interested in meeting face-to-face with life science researchers at Oregon Health and Science University?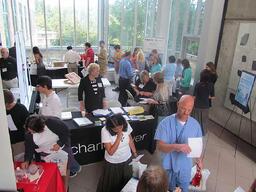 Biotechnology Calendar, Inc. produces an annual BioResearch Product FaireTM event in Portland that brings together lab suppliers with more than 180 of these active OHSU scientists, so they can display and demonstrate their latest products.
If you are a laboratory equipment supplier wanting to market to these well funded researchers, you should plan on participating in this event. The 16th Annual BioResearch Product FaireTM in Portland, OR will be held on Friday, November 12th, 2018. At the 2017 event, researchers from 22 different research buildings and 39 on-campus departments attended the event.
To learn more about participating in the upcoming event at OHSU , call (530) 272-6675, visit the following link: