For life science researchers, having easy access to data and information is essential. They can use this data to research diseases and further personal research, benefiting other researchers and patients. Oregon Health and Science University in Portland recently received a five-year grant of $15 million from the National Institutes of Health to establish a first-of-its-kind database to contain pediatric cancer and rare disease research. (Image courtesy of I, Cacophony via Wikimedia Commons)
This NIH funding will be used to establish a Kids First Data Research Center (DRC), the largest database of its kind. Portland researchers from the Oregon Health and Science University Knight Cancer Institute participating in this center will have access to a large database filled with genomic data from pediatric patients, providing more opportunity to research and deepen their understanding of pediatric cancer and other common diseases affecting children. Along with OHSU researchers, scientists from around the world can work collaboratively with those from the DRC to use the provided data in their research.
"There is an unprecedented amount of genomic data available, and these data hold the promise of yielding breakthroughs for debilitating pediatric diseases," explained Adam Margolin, PhD, director of the OHSU department of computational biology and a professor of biomedical engineering. "The idea behind the DRC is to unlock this potential by allowing researchers and clinicians across the world to easily apply advanced analytics to as mush pediatric cancer and rare disease data as possible."
Over the past few years, OHSU has been growing as a leading research institution. Along with recently being declared a Comprehensive Cancer Center by the National Cancer Institute, OHSU has been strengthening all of it's departments. The computational biology program at OHSU has been growing and strengthening with help from NIH grants. Recent grants provided to the program include:
$2.1 million to sequence RNA as part of the Genome Data Analysis Network of the NCI.
$5.8 million to research how different drugs resist and respond to different forms of leukemia.
$9.2 million to further their research of triple-negative breast cancer.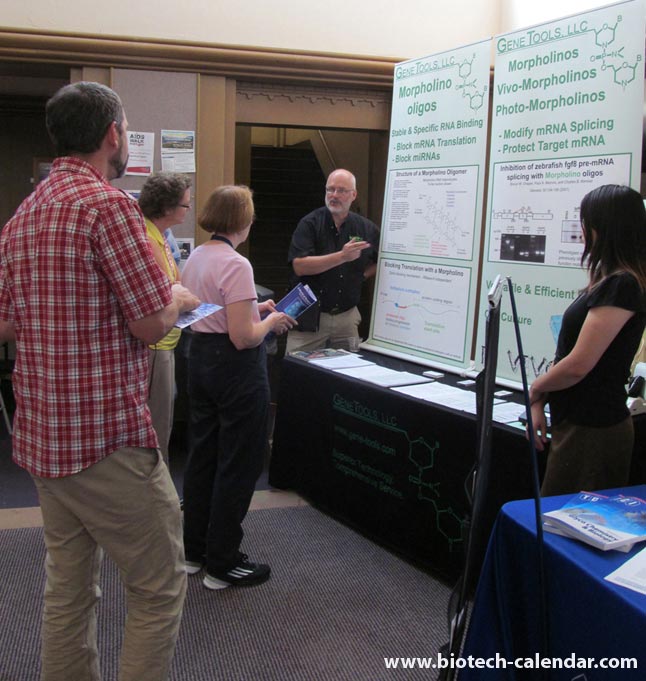 (Images courtesy of Biotechnology Calendar, Inc.)
Oregon Health and Science University is a top ranked research institution, receiving substantial amounts of funding from the National Institutes of Health each year. In the 2016 fiscal year, OHSU received more than $182.6 million in NIH funding.
Departments at the university receiving the most funding from the NIH include:
Internal Medicine/Medicine - $24.9 million
Microbiology/Immunology/Virology - $16.1 million
Other Basic Sciences - $14.5 million
Neurology - $13.9 million
Otolaryngology - $10.6 million
Interested in meeting face-to-face with hundreds of active life science researchers from Oregon Health and Science University?
Biotechnology Calendar, Inc. produces an annual BioResearch Product FaireTM event in Portland that brings together lab suppliers with more than 180 of these active OHSU scientists. The 15th Annual BioResearch Product FaireTM Event in Portland, OR will be held on November 9th, 2017. At the 2016 event, researchers from 22 different research buildings and 30 on-campus buildings attended the event.
To learn more about participating in the upcoming event at OHSU on 11/9/2017, as well as to receive more funding stats, visit the following link: