Each year, The Sidney Kimmel Cancer Center (SKCC) at Jefferson University Hospital receives approximately $72 million in grants for cancer research from organizations such as Susan Komen for the Cure. This year the SKCC received a $3 million donation from Esperanza and David Neu in order to establish the Neu Center for Supportive Medicine and Cancer Survivorship. The purpose of the Neu Center is to serve as a comprehensive resource for psycho-social care and research.
In an article for Jefferson University Hospital's News, Karen E. Knudsen, PhD, Director of the SKCC stated, "As oncology therapies have advanced, our patients are living longer lives with the disease and in recovery. The psychological trauma associated with a diagnosis must be treated as an extension of our standard treatment protocols; this insight is what makes the Neus' gift so impactful."
Research will be a key component of the Neu Center. Studies will examine how stress, quality of life, resource utilization, cost, and cancer outcomes are impacted by the implementation of robust psycho-social support services. Additionally, the Center will work to increase clinical trial enrollment through enhanced visibility and awareness among patients.
Thomas Jefferson University and the SKCC also receives major funding from the National Institute of Health's: National Cancer Institute (NCI). So far in 2017, the University has received 30 awards from the NCI totaling over $11 million. This includes nearly $3M in research center funding to the SKCC and over $8 in research project grant awards. Thanks to this research funding, the SKCC can conduct numerous research projects.
One such project being undertaken by Christine Eischen, PhD, Co-Leader of the Molecular Biology and Genetics Program at SKCC, is looking at a novel way to bring about cancer cell death. The survival of cells depends on a delicate balance of cell death-promoting p53 activity and the opposing cell survival-promoting activity of its binding partner, Mdm2. The loss of p53 can allow cancer cells to escape cell death, contributing to tumor survival and progression. Approximately half of all human cancers involve mutation or deletion of p53. Numerous studies have led to the view that the primary function of Mdm2 is to regulate p53 and that cells can survive without Mdm2 as long as p53 is also absent.
However, Dr. Eischen's study discovered that cancer cells lacking p53 need Mdm2 to live. The study revealed that Mdm2 can regulate cell death in p53-deficient cancer cells by binding to another target, the p73 protein. Unlike p53, p73 is rarely mutated in human cancer. Researchers found that in T cell lymphomas and sarcomas that lack p53, deletion of Mdm2 can induce death of cancer cells and thereby prolong survival of mice with these tumors. These findings have important clinical implications. As Dr. Eischen explained in an article for the SKCC news site, "Our results open a new avenue for therapeutic intervention of the 50% of malignancies lacking functional p53. Our data indicate that targeting Mdm2 in human cancers should have therapeutic benefit regardless of their p53 status."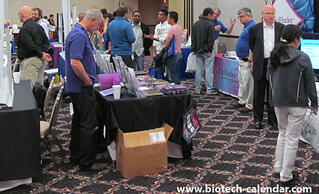 Last year, Dr. Eischen received 5 NIH grants totaling over $1.2 million. In June of this year, she received another $327,700 to continue her research into Mdm2.
U.S. News & World Report recently ranked Thomas Jefferson University Hospital, with the SKCC at Jefferson, as 20th in the nation for cancer specialty. This ranking recognizes hospitals that treat the most challenging patients and evaluate each hospital's use of advanced technologies, safety, outcomes, and capacity to overcome other medical issues. The Sidney Kimmel Cancer Center (SKCC) has been a National Cancer Institute-Designated Cancer Center since 1996. It is one of only 69 institutions in the nation to hold this prestigious recognition.
Laboratory equipment suppliers interested in marketing their products to the ground breaking, and well funded researchers, at Thomas Jefferson University in Philadelphia should plan on participating in the 9th Annual BioResearch Product Faire EventTM on May 9, 2018. At this event, lab suppliers will be able to display their products to over 150 active life science researchers looking to for the latest in laboratory supplies.
For more information about increasing lab product sales by exhibiting at this, or one of our other biotech trade shows, please call (530) 272-6675 or visit the link below:
Science professionals are invited to attend for free! Click the link below for more information and to save time in line by preregistering.