According to the World Health Organization, more than 36.7 million people around the world are infected with Human Immunodeficiency Virus (HIV). Although there is not yet a cure for HIV, some treatments are able to slow the spread of the virus. Researchers around the world study the virus with the hope of one day creating a cure to attack the virus. A team of researchers from the University of Southern California in Los Angeles are taking a different approach to fighting HIV - by creating a treatment that boosts the immune system instead of attacking the virus.
Led by Dr. I-Chueh Huang from the USC Keck School of Medicine, the Los Angeles-based research team will continue Dr. Huang's work of stopping different viruses from reproducing by using a specific family of proteins. (Image courtesy of National Institutes of Health via Wikimedia Commons)
Dr. Huang explained that: "Most HIV drugs target the virus. But the virus is not stable; it always mutates - problematic because the virus can become resistant to effective drugs."
The Huang lab has been studying an X4 strain of HIV, which emerges in the late stages of HIV when the infection has become more serious. Within this family of proteins, one - which has been named Delta 20 - has effectively been able to suppress X4. Using Delta 20 and the knowledge they have gained, the USC research team hopes to one day be able to develop new treatment methods for fighting the HIV virus.
"Our finding will not help develop a vaccine because the focus is on innate immunity rather than the virus. Perhaps one day scientists will create medicine that, like "HIV cocktails," have to be taken indefinitely. But the new treatment may be more effective because it is harder for viruses to escape the body's defenses," explained Dr. Huang.
Research from this study is published in the July 2017 issue of Proceedings of the National Academy of Sciences.
(Image courtesy of Biotechnology Calendar, Inc.)
The University of Southern California is a highly funded, world-renowned life science research institution. Researchers throughout the university receive millions of dollars annually from both private and public institutions to support ongoing research and to establish new research buildings and centers. In the 2016 fiscal year, USC received $212.1 million in funding from the National Institutes of Health (NIH). Departments at the university benefiting from this funding include:
Public Health and Preventative Medicine - $33.2 million
Internal Medicine/Medicine - $27 million
Biology - $14.3 million
Microbiology/Immunology/Virology - $12.5 million
Ophthalmology - $12.3 million
All of this funding makes USC a strong marketplace for lab suppliers to find new scientific product sales leads. Biotechnology Calendar, Inc. produces an annual BioResearch Product FaireTM Event at USC that gives researchers the opportunity to find new products and technologies to further their lab work. Lab suppliers have the chance to meet with hundreds of these researchers in a short span of time.
The17th Semiannual BioResearch Product FaireTM Event at the University of Southern California is coming up on October 25th, 2017. Both life science researchers and laboratory product suppliers are invited to attend this premiere life science event. To learn more, visit the appropriate link below: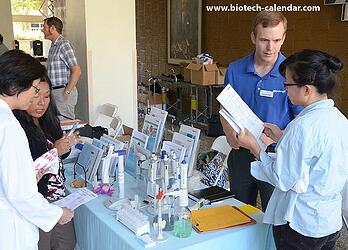 Exhibitors:
Researchers: