Is your company interested in selling scientific lab equipment to researchers in Utah?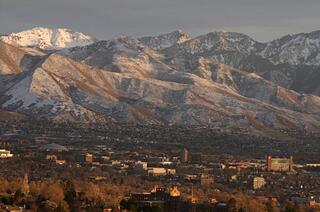 If you' are serious about educating researchers about how your lab equipment can help Utah researchers find answers to their research questions, we encourage you to participate in the upcoming Utah BioResearch Product Fair Event to be held like to participate in the upcoming lab product sales event at University of Utah,
BioResearch Product Faire™ Event at
The University of Utah

30 August, 2017
The last BioResearch Product Faire™ event at the University of Utah attracted 226 attendees. Of these attendees, 70 were purchasing agents, professors and post docs, and 30 were lab managers. These attendees came from 19 different research buildings and 33 on-campus departments.
Here's what exhibitors have said about the Biotechnology Calendar, Inc. Utah Event.
"Best product show ever - I learned more about advances in the industry than I have all year long." - L. B., University of Utah BCI event

"This is a amazing show. People here are so helpful I got a lot useful information. Hope everything goes well. Thank you so much." - C. L., University of Utah BCI event
Utah Funding:
2015 Life Science R & D Expenditures: 39th Ranked: $326,552,000 [1]




2015 NIH Funding

: $146,309,190 [2]

A new 220,000-square-foot, $105 million expansion is under way in the Primary Children's and Families' Cancer Research Center at Huntsman Cancer Institute (HCI). The construction is slated for completion in spring of 2017 and is doubling the research space within the Huntsman Cancer Institute. [3]

The George Thomas Building at the University of Utah is being redeveloped into The Crocker Science Center, a 123,500 square-foot research and teaching facility, including labs for the Cell and Genome Research Center. Construction is estimated to be complete in fall of 2017. [4]

An investigator at the University of Utah received an additional $4.2 million to continue studies on the structural biology, biochemistry, cell biology and molecular virology of the HIV-1 life cycle. [5]

The University of Utah's Center for Clinical and Translational Science (CCTS) received a $4.1 million grant to support its research programs. [6]

An additional $2.2 million grant was awarded to The University of Utah's cancer center to accelerate the progress of high-impact discoveries in the understanding, treatment, and prevention of cancer.

For more information visit our recent blog:
Easily Sell More Lab Supplies and Equipment at Utah Event:
Current Stats for Utah:
For even more event information about the Utah Event - click below:
.
if you'd like to reserve a space at the early registration price.


New to our events? Dont have any budget left for 2017?
Enter to win a Free exhibit space:
Click image below: