This spring, BioTechnology Calendar, Inc. hosted back-to-back on campus life science events at the University of Southern California (BioResearch Product Faire) and the University of California in Los Angeles ( Biotechnology Vendor Showcase). Both shows generated lots of enthusiasm and foot traffic from on campus researchers across the respective campuses. This fall both shows will be offered again, and typically the fall event are even more popular than the spring events.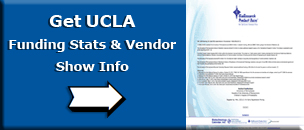 Click below to get event schedule:
Exhibitors were pleased with the researcher response to their participation at these events: Many reported ROI's of tens of thousands to hundred of of thousands of dollars (several reported possible millions in sales) in anticipated revenue resulting from exhibiting research products at these events.
Comment included the following:
"Great event, as I expected, wouldn't change a thing! Location was awesome!"
"I was amazed and surprised at the level of engagement at this show. I think the small number of vendors gave attendees plenty of time to interact individually."
"Thank you so much, you guys were great. From start to finish, we appreciate all the help. We will definitely look at another Biotech Faire event, as this turned out to be more successful than anticipated, this was a bit of a shot in the dark for us but we see the potential."
Comments from Researchers included:
"The experience was great, I was able to get a lot of info on materials that I need. Everybody was very friendly, please have again."
"I am a research associate and lab manager. I attend almost every vendor show at UCLA. I believe this vendor show is the the best. There are so many vendors and new products. I will be ordering some products in the next week or two. Thank you."
These two events each happen twice a year, so if you missed one or both of the shows, be sure to attend them this fall.
If you sell innovative bioscience products or services for research, this is your chance to meet with researchers, post docs, grant holders, and department staff directly and discuss the quality and importance of your product to their research. The Los Angeles area is considered a heavyweight when it comes to medical research. Don't miss these events! To find out more, follow the links below.
University of Southern California BioResearch Product FaireTM event - October 9, 2019
University of California, Los Angeles BioResearch Product FaireTM event - October 10, 2019
See all 2019 events by clicking the button below: