Biotechnology Calendar, Inc. offers a one-of-a-kind marketing opportunity in Utah with the Annual BioResearch Product Faire™ Event at the University of Utah. This event is appreciated by exhibitors and researchers on the Utah campus each year

"Best product show ever - I learned more about advances in the industry than I have all year long." - L. B., University of Utah BCI event

"This is a amazing show. People here are so helpful I got a lot useful information. Hope everything goes well. Thank you so much." - C. L., University of Utah BCI event

The University of Utah was established as a public university for researchers, academics and professionals in Salt Lake City over 160 years ago. Ranked among the top 100 universities in the world for the past consecutive 10 years, the University of Utah is home to researchers conducting innovative studies in over 80 centers and institutes, including departments in the life sciences.

This well-established life science marketing event offers lab suppliers the chance to stand out from their competition in a fun, yet professional networking atmosphere. Marketing your lab products to hundreds of life science professionals and increasing lab sales has never been easier.

University of Utah Life Science Market

What makes the marketplace at the University of Utah distinctive? Consider the following funding statistics:

Recent Life Science R & D Expenditures: 61st Ranked: $380,295,000
Recent NIH Funding: $170,579,644

A new 220,000-square-foot, $105 million expansion is under way in the Primary Children's and Families' Cancer Research Center at Huntsman Cancer Institute (HCI).
The George Thomas Building at the University of Utah is being redeveloped into The Crocker Science Center, a 123,500 square-foot research and teaching facility, including labs for the Cell and Genome Research Center. Construction recently completed

The University of Utah's Center for Clinical and Translational Science (CCTS) received a $4.1 million grant to support its research programs.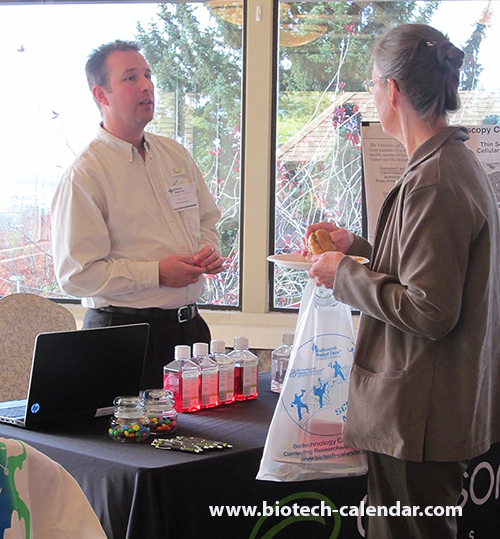 Biotechnology Calendar, Inc. events offer quality services to lab supply sales representatives and researchers alike. These enjoyable, well-organized events connect life science professionals with the lab products and services they are looking for. Enjoy free parking as an exhibitor and a delicious catered lunch whether you are a vendor or researcher. Experienced event staff are available from the show's start to finish to make sure researchers get all the information they need from vendors, and sales representatives have the opportunity to meet promising, well-qualified leads.
When you exhibit at Biotechnology Calendar, Inc.'s University of Utah event, you will meet a high percentage of decision-makers in attendance. Last year, the BioResearch Product Faire™ Event at the University of Utah attracted 125 attendees. Of these attendees, over 65 were qualified leads such as purchasing agents, professors, post docs and lab managers. The attendees came from 18 different research buildings and 26 science departments.
Consider making connections within the highly active marketplace at the University of Utah, you may be missing out on a valuable opportunity to increase lab sales and market your lab products.
If you would like to market your lab products and increase lab sales in an up-and-coming research marketplace, Biotechnology Calendar, Inc. invites you to exhibit at the BioResearch Product Faire™ Event at the University of Utah coming this spring.
High Ranking Nationwide
High Funding Levels: NIH, NSF
Responsive Event Audience: High % decision makers
To learn more about life science marketing opportunities in other regions of the United States, please see the 2019 and 2020 schedules. Click on the exhibitors button below for an in-depth list of research funding statistics and life science marketing event information for the University of Utah.
click for more information: