Sight is something that a majority of the population will never have to worry about losing. However, many diseases threaten sight, like age-macular degeneration (AMD). This degenerative disease becomes more likely with older age, and causes a loss of central vision in the retina. In the United States more than 10 million people suffer from AMD, the majority of those aged 55 and older.
Brian S. McKay, an associate professor of Ophthalmology and Vision Science, has already learned that a drug used to control movement disorders like Parkinson's disease can prevent macular degeneration. Levodopa (l-dopa) is a molecule that naturally occurs in different pigmented tissues throughout the body. One tissue where l-dopa is found is the retinal pigment epithelium (RPE) in the eye. In previous research, McKay found that there is a receptor for l-dopa in the RPE which helps protect the retina from macular degeneration.
"We will follow up on this critical observation with cell biological studies to determine how l-dopa's effect occurs," explained McKay. "This grant will help us determine whether we can repurpose l-dope to halt the epidemic that age-related macular degeneration has become."
Patients taking l-dopa in a synthesized form were observed to be less likely to develop macular degeneration than those not taking l-dopa. With the help of the current funding, McKay and his research team will dig deeper into the relationship between l-dopa and RPE to gain a better understanding of how l-dopa protects the retina. The team has already found a signaling molecule called GPR143 that affects RPE and is involved in blocking the onset of AMD.
McKay says that "the research will test whether GPR143 or other dopamine-related receptors bring about the protection from AMD in those taking l-dopa. Once the responsible receptors are identified, they can be targeted to develop new drugs or combination therapies to protect people from developing AMD."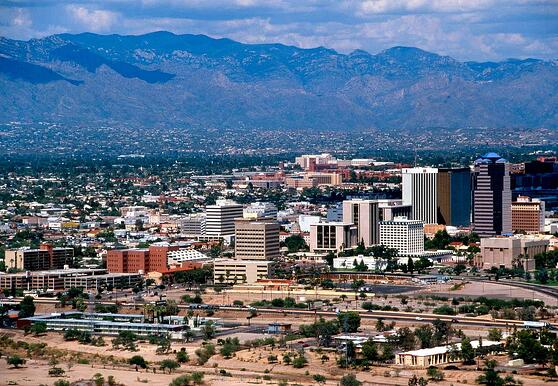 (Image courtsey of Wikimedia Commons)
The University of Arizona is a leading institution for life science research. Receiving nearly $290 million in R&D expenditures in the 2015 fiscal year and more than $87.7 million in funding from the NIH in 2016, researchers at the University of Arizona are some of the most well-funded in the nation. Current funding at the university is being used to support ongoing research, establish new research facilities and fund new research projects. Projects in Tucson benefiting from this funding include:
With so much inactive funding supporting a vast array of projects, Tucson researchers have the means and desire to find the best and newest tools and technologies to use in their labs. Biotechnology Calendar, Inc. hosts an annual event at the University of Arizona that brings together lab suppliers and researchers in one place to meet face-to-face to discuss the new products available.
The 15th Annual BioResearch Product FaireTM Event in Tucson will occur November 2nd, 2017 when more than 100 researchers are expected to attend. Last year, researchers came from 28 different campus departments and 13 on-campus buildings.
To learn more about participating in this premiere life science marketing event, visit the link below: