Vaccine research is a field that is constantly growing and changing, from new vaccines being created to different vaccination methods being developed. With diseases changing and new diseases emerging, researchers around the world work tirelessly to create treatments. Researchers from the College of Veterinary Medicine at the University of Georgia, Athens recently received a grant of $3.2 million from the National Institutes of Health (NIH) to continue their work developing new vaccine platforms. (Image courtesy of John Keith via Wikimedia Commons)
A team of researchers in Athens, led by Dr. Steven Trent, Dr. Jeff Hogan, and Shawn Zimmerman, have previously created a platform called Surface Antigen/Adjuvant Vaccine Engineering (SAAVE) that is able to create vaccines from bacterium. The recently received grant will allow these researchers to further develop this platform over the next five years, with the goal of creating oral probiotics by engineering the surface of different bacterium.
Past research by the Athens researchers has involved engineering lipopolysaccarides (LPS) to work as an adjuvant in vaccines. Continuing with this knowledge, the team will use organisms that carry disease and take different antigens from them to pair with different adjuvants that come from engineered forms of LPS.
Dr. Trent explained that: "The most important factors in vaccine development and administration are vaccine efficacy, safety, production time and cost. The SAAVE platform will help us be able to offer vaccines to a population that can be delivered quickly, in a non-invasive manner, and at a lower cost. It has the potential to make a very large impact in regions of world where the costs of vaccine administration are prohibitive."
Currently, the Athens researchers are using this method to make progress on creating vaccines for cholera and influenza.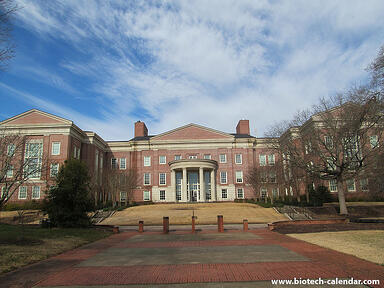 With more than $49.9 million in funding from the National Institutes of Health in the 2016 fiscal year, the University of Georgia, Athens is a fruitful marketplace for life science research. Currently funded research being conducted in Athens include:
With all this funding supporting ongoing life science research projects, PIs, grad students, post-docs, professors, purchasing agents, and other lab staff have the means and need to purchase new laboratory supplies to further their work. Biotechnology Calendar, Inc. holds a BioResearch Product FaireTM Event in Athens each year that provides laboratory suppliers with the opportunity to meet face-to-face with these active UGA researchers in one place in just a matter of hours. The 19th Annual BioResearch Product FaireTM Event in Athens will be held on March 14th, 2018.
At last years event, more than 100 attendees came from 19 different research buildings and 29 on-campus departments. Of these attendees, 28 were purchasing agents, professors and post docs, and 23 were lab managers.
To learn more about marketing lab products at this premiere Athens event, visit the link below:
Researchers in Athens are invited to attend this complimentary event. To learn more, and pre-register, visit the link below: