Duke Scientific Sales Event, Provides Research Networking Opportunities

We invite you to join other top lab suppliers in bringing the best new tools and technologies to Durham-area researchers in 2017 at the Duke University BioResearch Product Faire™ events.
"I am impressed at the good turn out and quality leads that this show has generated. The researchers were engaging and interested in my products and services. Equally impressed with the event staff. They go out of their way to assist you with anything." - S. C., Exhibitor, Duke University BCI event
Funding Highlights at Duke:
Life Science R&D Expenditures: $855,980,000.
The National Institutes of Health awarded Duke University $416,881,431 in life science research funding
Duke University is actively building a third medical science research building. This 7 story, $103 million, building is expected to be completed in the fall of 2018.
Duke University received over $571 million in private donations
Below is a chart summarizing top recently funded (2017) projects at Duke University in terms of NIH Level Research funding:
Project
Group
Funding
CENTER FOR HIV/AIDS VACCINE IMMUNOLOGY AND IMMUNOGEN DISCOVERY
NIAID
$33,697,405
INDUCTION OF PROTECTIVE B-CELL RESPONSES TO HIV-1
NIAID
$22,790,537
ECHO COORDINATING CENTER
OD
$18,172,311
PROJECT-005
OD
$12,872,250
DUKE CTSA (COMPOSITE)
NCATS
$8,821,156
ANTIBACTERIAL RESISTANCE LEADERSHIP GROUP (ARLG)
NIAID
$8,000,000
HEART FAILURE CLINICAL RESEARCH NETWORK COORDINATING CENTER
NHLBI
$6,824,782
CENTER FOR INNOVATIVE TRIALS IN CHILDREN AND ADULTS (TRIDENT)
NCATS
$6,156,391
CANCER CENTER SUPPORT GRANT
NCI
$5,679,062
DUKE CLINICAL GOOD MANUFACTURING PRACTICES FACILITY FOR HIV/AIDS VACCINE PRODUCTION
OD
$4,900,000
CENTERS FOR MEDICAL COUNTERMEASURES AGAINST RADIATION
NIAID
$4,698,865
PROJECT-003
OD
$4,544,270
INCREASING THE QUALITY AND EFFICIENCY OF CLINICAL TRIALS (R18)
FDA
$3,785,000
OPERATIONS AND MANAGEMENT SUPPORT COMPONENT
NIAID
$3,560,733
METABOLIC NETWORK ANALYSIS OF BIOCHEMICAL TRAJECTORIES IN ALZHEIMER'S DISEASE
NIA
$3,509,523
BRIDGING ANTIBODY FC-MEDIATED ANTIVIRAL FUNCTIONS ACROSS HUMANS AND NON-HUMAN PRIMATES
NIAID
$3,241,864
Total

$151,254,149

\
Event Details:
Last year, the BioResearch Product Faire™ Event at Duke University attracted 265 attendees. Of these attendees, 53 were purchasing agents, professors and post docs, and 39 were lab managers. Attendees came from 22 different research buildings and 37 on-campus departments. Duke is top tier research University with lots of funding each year. Exhibitors reported excellent returns on participating in this event.
Next Event at Duke 5/24/2018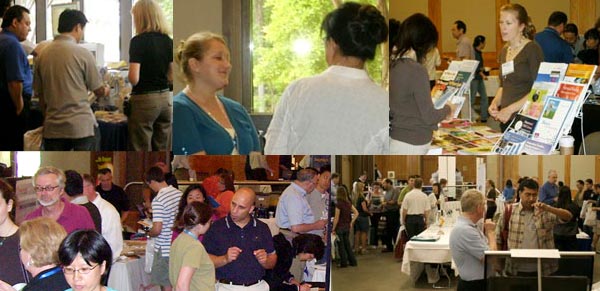 Looking to participate at other on campus vendor show across the nation? Click below to receive more information: