3rd International Conference and Exhibition on Analytical and Bioanalytical Techniques

Conference - Hyderabad, India
Through the theme- Exploring Scientific Technologies & Industry Insight, the conference aims in promulgating knowledge and exchange of new ideas amongst the pharmacy professionals, industrialists, and students. This is an excellent opportunity for the delegates from Universities and Institutes to interact with the world class scientists.

The previous two conferences on Analytical and Bioanalytical Techniques which were held at Hyderabad, India and San Francisco, USA have gained so much of interest for eminent scientists all over the world in Pharmaceutical R&D. Now it is the time for Analytica Acta-2012 to share novel approaches in all those research areas where Analytical and Bioanalytical techniques are applied.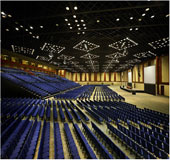 (Courtesy of http://www.omicsonline.org/analyticaacta2012/)
Thu, Nov 22, 2012 - Sat, Nov 24, 2012
Hyderabad International Convention Center
Novotel & HICC Complex (Near Hitech City), PO Bag 1101 Cyberabad Post Office, Hyderabad, India
If you'd like to ask a question or post a comment about this talk please do so below.
This seminar posting is brought to you by Biotechnology Calendar, Inc. providing access to research information and research tools for nearly 20 years. Visit our Science Market Update Blog for current science funding and market information or see our schedule of upcoming science research laboratory product shows.