BioResearch Product Faire™ Event at Ohio State University, Columbus – July 25, 2019
The annual BioResearch Product Faire™ Event, hosted by Biotechnology Calendar, Inc. (BCI) will be held at Ohio State University, Columbus on July 25 from 10:00 a.m. to 2:30 p.m. This annual event is held free of charge to offer researchers, scientists and educators from various sectors of the life science industry the opportunity to network and discover the latest biotechnologies and laboratory equipment.
Last year, the BioResearch Product Faire™ Event in Columbus hosted hundreds of researchers, including lab managers, purchasing agents and post-docs from 42 different research buildings and 57 on-campus departments.
Life science researchers from Ohio Sate University, Columbus and surrounding areas invited to attend annual biotech showcase event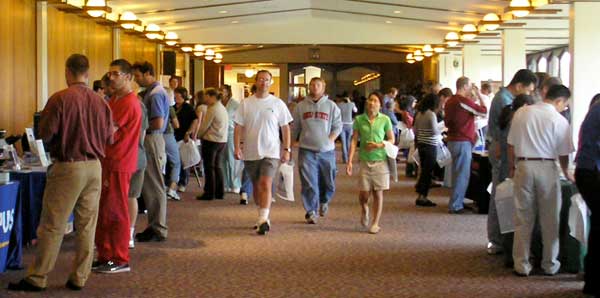 Other upcoming life science events in the Midwest
These events feature:
Active researchers and scientists who want to network and share information
Vendors of cutting-edge biotechnology and new lab supplies demonstrating their latest products
Extensive catering, free merchandise and prize giveaways
Laboratory product shows are some of the life science industry's most popular events for researchers and biotechnology suppliers, and put lab vendors in direct contact with active researchers on their home turf. Admission, food and refreshments are free for researchers, but early registration is encouraged and available.
In addition to this event, www.Biotech-Calendar.com offers daily life science news and hosts over 60 industry tradeshows at universities across the nation. A leader in life science news and tradeshows, Biotechnology Calendar, Inc. continues to exemplify the importance of networking and education that is so vital to the life science industry.
Lab vendors and researchers from Ohio State University will network during this industry-leading event to explore the newest products and trends under one roof. Mark your calendar for the 15th annual BioResearch Product Faire™ Event at Ohio State University, Columbus on August 6, 2015.
ABOUT BIOTECHNOLOGY CALENDAR, INC.
Biotechnology Calendar, Inc. (BCI) is a full-service marketing and event planning company that specializes in on-campus life science research tradeshows nationwide. Founded in 1992 by scientists, we are the oldest, most experienced, highly recognized, and professional bioresearch equipment and university research tradeshow producer in the United States. Researchers know us, purchasing agents trust us, and vendors depend on us to help them showcase their products.
BCI events annually bring together over 15,000 scientists with lab supply vendors from various life science industries in order to present and discuss the latest technologies, to advance research endeavors, and to promote the exchange of ideas between tool developers and users.