Global Biofuels & Bioproducts Summit

Summit - San Antonio, Texas, USA
At Bioproducts-2012 leading scientists will present and discuss current advances in the research of bioproducts. New scientific evidences that support or question the efficacy of already existing or prospective substances and applications will be conferred. In addition controversial but scientifically solid ideas, approaches and visions will be presented as well.
The Global Biofuels & Bioproducts Summit will schedule and coordinate all meetings with our Editorial Board Members and other experts in the field of biofuels & bioproducts across the World. The scientific program paves a way to gather visionaries through the research talks and presentations and put forward many thought provoking strategies in biofuels & bioproducts. The scientific program will focus on current advances in the research, production and use of biofuels & bioproducts with particular focus on their role in maintaining ecofriendly environment and reducing pollution.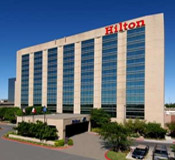 (Courtesy of http://www.omicsonline.org/bioproducts2012/index.php)
Mon, Nov 19, 2012 - Wed, Nov 21, 2012
Hilton San Antonio Airport
611 NW Loop 410, San Antonio, Texas, USA 78216
If you'd like to ask a question or post a comment about this talk please do so below.
This seminar posting is brought to you by Biotechnology Calendar, Inc. providing access to research information and research tools for nearly 20 years. Visit our Science Market Update Blog for current science funding and market information or see our schedule of upcoming science research laboratory product shows.